Empower Rural Iowa Broadband Grant Program - Invitation to Qualify #001 - Broadband Intervention Zones
NOTICE: The Application Window is open from March 1 to March 31, 2023.
OFFICIAL NOTICE. March 1, 2023. On March 1, 2023, the Department of Management, Office of the Chief Information Officer ("OCIO") announced the opening of the Application Acceptance Window for Broadband Intervention Zones Invitation to Qualify #001.  Today, the OCIO has posted the final version of Broadband Map v.5 as well as the Geographic Area of Concern selection tool. The Application Acceptance Window is open until March 31, 2023.
Since 2018, Governor Reynolds' Empower Rural Iowa Broadband Grant Program has issued seven funding opportunities for Broadband expansion in Iowa. Collectively, grant funding exceeding $350 million has been awarded to provide new Broadband service to unserved and underserved locations in Iowa. Upon completion, these Broadband projects will result in over $680 million in new Broadband investment, serving an expected 109,000 homes, schools, and businesses in Iowa.
Prior Broadband funding opportunities made available through OCIO have allowed Broadband service providers to identify areas in the state in which the provider wanted to build. In this instance, the Office is seeking participation from Communities to identify themselves as in need of Broadband. Successful responses to this ITQ will identify targeted Communities for future grant funding.

Watch this video and download this flyer for an introduction to the Broadband Intervention Zone ITQ #001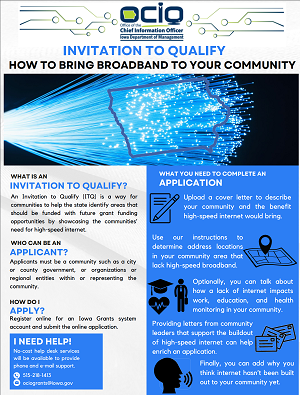 Download the Broadband Intervention Zones ITQ (Updated 3/1/2023):
https://ocio.iowa.gov/file/exhibitainvitationtoqualify-broadbandinterventionzonespdf
Pre-Application Conference

On February 15, 2023, the Office held a Pre-Application Conference to discuss a high-level view of the program, including the requirements prescribed by the ITQ. Participants were given an opportunity to ask questions at this time. A video recording of the pre-application conference is available here.
Written Question Form

The Written Question and Response period is closed. The Responses to timely-received Written Questions are posted in Addendum 1 under Program Documentation.
Program Resources

The following information concerning OCIO Broadband Intervention Zones ITQ #001 can be found below:
Invitation to Qualify #001 - Purpose

The purpose of this ITQ is to solicit Applications from Communities lacking Broadband. Successful Applications to this ITQ will be used by the OCIO to establish Broadband Intervention Zones that will in turn be used to prioritize areas that OCIO will prioritize for funding of future Broadband programs.

Invitation to Qualify #001 - Who is Eligible to Apply

An Applicant to the ITQ must be a Community. Community Applicants may include city governments, county governments, school districts, consortia of political subdivisions, non-profit organizations representing communities (e.g. councils of governments), and regional entities with an economic development or educational mission (e.g., Area Education Agencies, Iowa State University Extension Field Offices). Applicants to this ITQ may not include: (1) individuals, (2) communication service providers, or (3) consultants working on behalf of Communities.
Invitation to Qualify #001 - ITQ Design

Through the ITQ, Community Applicants will be given an opportunity to identify a geographic area that is of most concern to the Community using OCIO's interactive mapping solution. The Applicant will use the Geographic Area of Concern Selection Tool to select this area. Within the selected area, eligible address locations for broadband buildout will be identified. These address locations will make up the Geographic Area of Concern.

In addition to providing address information associated with the Geographic Area of Concern, Community Applicants will be afforded the opportunity through the ITQ to submit optional information, including:
Detail of how the buildout of Broadband in the geographic area would

improve work, education, and health monitoring

;

Community support

, including letters of support for the proposed buildout;

Community capital

the Community will offer, such as free access to local resources or simplifying any permitting processes

; and

A narrative response regarding any perceived

barriers to the installation

of Broadband in the geographic area (e.g., topography, geography, demographics, etc.) that exemplify the need for grant funding in order to incentivize Broadband buildout in the area.
OCIO will evaluate successful Applications and rank those Applications according to a Broadband Readiness Score. The Score is informed by seven factors outlined within the ITQ.  These Geographic Areas of Concern will become Broadband Intervention Zones for which funding may be prioritized by the OCIO for future grant opportunities. In addition, OCIO may identify its own Broadband Intervention Zones to include in the list. However, Broadband Intervention Zones created by the OCIO will not be ranked higher than any Broadband Intervention Zone created on behalf of a successful Community Application.
Invitation to Qualify #001 - Schedule of Important Dates

The timeline for the ITQ including steps and dates, are described below (all dates are subject to change):
Invitation to Qualify #001 - Program Documentation

Information concerning the ITQ application process, including all application materials, are provided below. All Applications to this ITQ are required to be submitted electronically through the Iowa Grants System, as part of Funding Opportunity #498157. Note: Exhibits not listed here will be provided at a later time, but not later than the opening of the Application Acceptance Window on March 1, 2023. Updates to program documentation may be identified through addendums issued by the Office or otherwise noted in the list below. 
Invitation to Qualify #001 - Instructional Videos for Applicants

The following instructional videos have been published to assist Applicants with their Applications to this ITQ: